Computers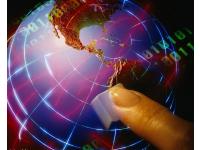 Today's world is often called the computer world. We cannot imagine our life without computers. The first computers were developed during the Second World War. They were used to break the codes, used to send secret information.
After that, they were used for doing calculations for the first atom bomb tests. Basically, computers do calculations and that's all. They can do calculations very quickly, no man is capable of doing such calculations so quickly. The first computers were very big. They needed large and air-condition rooms. Modem computers are small enough and we keep them in our flats. They turn numbers into pictures, words and sounds. In Japan there are computers, which even respond to human language.

The computer revolution has brought changes into many professions and spheres of knowledge. A modern office is unimaginable without computers. They store information, they help to type all sorts of papers. We can send messages by e-mail with the help of computers. Besides that computers may be connected with Internet, that is with the whole world. Still, they have some dangers and disadvantages. Information from computers can be stolen by hackers. Sometimes computers are broken at the most important moment. In order to work on the computer you should have many skills. Even when you make a small mistake you often have to start your work from the very beginning. One must, be very patient working on the computer.

When my parents bought me a computer 1 was in the 7th heaven of delight. Of course I first played some games and watched cartoons but soon I got tired of it and started to do more serious things. I made calculations for my classes in math's typed topics for my English classes. I dream of having some translation programs and good dictionaries on CD when I become a translator.

I will certainly make more use of my computer. There are so many things that I can't do. I can't draw tables I can't format the texts. Sometimes it is difficult to change types. I can't write programs myself. If something goes wrong with my computer I can't repair it myself. I have to invite specialists. Computer techniques improve with every passing year. Correspondently, we must improve our skills. But this work is very' enjoyable. I take pleasure in working on the computer.