Cultures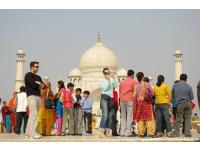 Our world is really a small world. Modern transport facilities make it possible to reach any part of our planet within a few hours. People have to communicate and solve common problems in all the spheres of political life, economy and culture. Communication is an interaction of cultures. The knowledge of each other's culture and traditions is very often important for successful business and political talks. We, Russians, very often surprise our foreign partners by our behavior and manners.

Some Russian traditions seem strange to foreigners. For example, we are fond of receiving guests and try to cook as much food as we can. We actually make people eat even if they refuse. In the West it is not usual to feed guests in this way. People very often eat in the restaurants and order what they prefer and usually pay for themselves even girls when they are invited by young people. It is often a shock for Russian girls. Russian people are said to drink too much alcohol. Frankly speaking those foreign people whom I met drank not less than Russian people. It is not usual for people in the West to tell other people-especially strangers about their private life. They try to keep their troubles to themselves and always say that they are fine. We, Russians, on the contrary prefer telling everybody that we have many problems and everything goes wrong. We are fond of complaining, but in general Russian people are open - hearted.

People of every nationality have their peculiar features. English and German people, for example, are very punctual, reserved, they are not very quick to make decisions, they dislike off-hand manners, and they try to follow very strict norms of behavior. People from Norway, Finland, Sweden are even more reserved and emotionless and not so quick to make friends. Italian and French people, on the other hand, are very emotional. All these things should be taken into consideration when we go to this or that country either on business or just as tourists. Certainly, the knowledge of the language of the country helps a lot. Of course it is impossible to know all languages existing on the Earth. They say there are about 6.000 languages on our planet. Fortunately, those who study English are lucky enough because English is becoming the language of international communication. The English language spreads together with new high technologies and technical achievements. The English language is the language of the United Nation Organization and of most scientific international conferences and political talks. Without English you cannot be a success neither in business, nor in politics, nor in public relations. Thanks to crosscultural communications people get to know each other much better, the more we communicate, the less is the danger of wars and other unfriendly feelings. I hope that Internet, traveling and international business will soon turn our planet into one big country with very friendly people understanding each other perfectly well.