Unemployment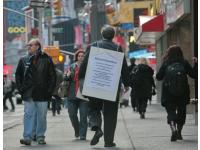 Unemployment is a very urgent problem today. Years ago when a man left school he learnt some job and did this job all his life. He could be sure that his job would be needed to his dying day. Nowadays he couldn't be sure. Your work may look like a very good job at present, but it may not be needed in 10 years. Some experts think that the working man of the future must expect to learn three or four different skills in his working life. For instance, even 15 years ago the work of a typist was very popular. Many women earned their living by typing. Today computers have replaced type - writers. So if a former typist can't buy a computer and master it she is sure not to get orders.

Many workers at the plants and factories loose their jobs because of automation. If their jobs simply disappeared it is not their fault. Certainly if a person is young he may study and master a new skill. Unemployment is a more serious problem for elderly people for whom it is more difficult to master a new
profession. At first unemployed people are given a payment either by the state or by the employer. The longer a person has had his job the more he gets. It is a kind of compensation. It is big enough in the West. In Russia unemployed people get a small payment. Still there are training and retraining centers where they can learn some skills. Courses at the training centers are usually free.

As far as I know many enterprises today need qualified workers, but not engineers. Cafes and restaurants need waiters, people to wash dishes. Every city-needs people to clean the streets. But there are a few people who agree to do the job like this. The trouble is that people are ashamed of doing so called dirty jobs.
For young people it is very important to get a good education or probably even two higher educations. For instance, it's good to know some foreign languages and be an economist in addition. I dream of getting higher education in economics some day and hope that I will never find myself unemployed.
Still if I find myself unemployed I'll never be in panic. Г11 find some way out. A woman can always make something with her own hands. Hand-made things are always in demand. I can sew a little, knit a bit. I think I'll need these skills when I'm married. Besides it is always possible to start some new business. If you have reliable friends they'll help you. I'm not afraid of being unemployed.