Weather forecast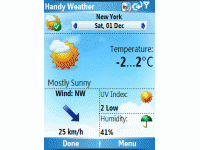 When you get up in the morning, you have breakfast and usually listen to the weather forecast. Some of us think it's unnecessary,but some tend to do it.
As a rule the weather forecast tells the truth. But it's very difficult to say what weather is going to be, that's why you shouldn't blame the weatherman when the weather forecast appears to be false. When people hear that we are in for a spell of good weather, they usually believe it. Of course it's a big surprise when instead of much heat we have drizzle and fog. People who make weather forecast do their best to help us, but it's not their fault if the weather wants to treat us. Besides special equipment is very expensive.
So, if you don't trust the weather forecast, you always can look out of the window and see if the weather is turning bad or it will change for the better. If you see that the sky is cast with clouds, it's better to take your umbrella, even if the weather forecast promisses that a change is comming in the weather.
Vocabulary:
tend verb (BE LIKELY)
/tend/
[I] to be likely to behave in a particular way or have a particular characteristic
[+ to infinitive] We tend to get cold winters and warm, dry summers in this part of the country.
in for a spell of good weather (ph)
to expect good weather
heat noun (TEMPERATURE)
/hiːt/
the quality of being hot or warm, or the temperature of something
is turning bad (ph)- becomming bad
cast with clouds - covered